Here, I am going to try and clarify
what i look for in photographs
, and what i can accept to
feature as a DD
.
I have noticed that even if i did a folder on my page with all my past DDs, people keep suggesting things that are nowhere near what i enjoy.
So yes, i have to be clearer.
Photography, painting and music are very similar, in the way that you can be a total amateur and still be able to say if you like it or not. Because art gives you feelings, sensations, it brings back memories, it makes you fantasize, it confuses you, it makes you think.
Some art even gives you the illusion that it makes you think, when in fact it only highlights something that was already your opinion, and very often an opinion shared by the majority.
Lets have a look at dA's conceptual photography.
browse.deviantart.com/photogra…
Lets look at the first 60 deviations featured here as the most popular.
You'll see
-19 photos featuring women, 6 of them in water, 3 of them with the idea of drowning, 2 of them with something on their mouth to be silenced, 5 of them being naked or almost naked.
-12 photos representing the sea, or beach, or water.
-10 photos that could be called "retro"
-9 photos with clouds, 5 of them where humans interact with them
-11 photos talking about "Love", 8 photos with hearts, 3 of them with the word "love" written inside the photo.
-6 photos representing a lonely figure
-5 photos with fake blood
-4 photos talking about man vs woman
-4 photos of animals (remember, this is not the section animals, plants and nature). 2 of those are cats and they look almost identical (and were taken by the same photographer).
In the next row of 60 you have even more women in water, clouds, hearts, beaches and retro colors.
OK so now, lets ask ourselves what is conceptual photography ?
To make it short (i could do an art history lesson but i'm not sure i either have the time or that people will have the patience to read) :
Conceptual photography is photography based on a concept, and that detaches itself from any form of aesthetics.
"Conceptual art is art in which the concept(s) or idea(s) involved in the work take precedence over traditional aesthetic and material concerns."
Conceptual photography appeared in the 60's, 70's with the works of artists such as Ed Ruscha (book : Every Building on the Sunset Strip), Bruce Nauman (Book : Laair), and Dan Graham for example :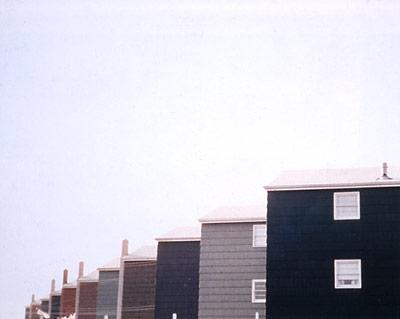 Dan Graham, Homes for America.
They are not primarily photographers but the three of them were an inspiration to the rest.
Their intention was to diffuse "poor" images, that couldnt be sold, that were not aesthetic. Ruscha said : "I think that photography as a fine-art is dead. It's only place is in the commercial world, as a technical or informative means."
You may know Bernd and Hilla Becher too...
Anyway, at first it was difficult to separate conceptual art and conceptual photography, as photography was here to keep a trace of the conceptual art, land art, etc.
You have to make the difference between
idea
(concept), and
message
.
Conceptual photography isn't about delivering a message by using a metaphor
. Speaking of which, most photographs that you see in this so called deviantart "conceptual" photography section should actually be called "metaphorical" photography. Metaphorical photography is very present in Stock Image banks, (which has nothing to do with stock photography on dA) like here
www.fotosearch.com/photos-imag…
. But you can also find photographs that are similar to dA's conceptual photography on Fotolia, another stock image website
www.fotolia.com/cat2/15005000
and here it's under the term "concept" as well.
Another thing, conceptual photography isn't about illustrating an idea. Art isn't about illustration at all. Illustration serves purposes of... illustration. Illustration helps transmitting messages and is mostly used in commercial photography. Illustrating joy, illustrating loneliness, illustrating the love for an animal...
Art photography, and more specifically
conceptual photography raise questions more than it answers any.
It questions our reality. The way we represent reality. Our relation with reality.
Art isn't about thinking hey i saw this cool image and i'm gonna do the same one. Conceptual photography is not about taking the photo of a girl wearing a dress running on a beach.
If any art history teacher was coming on this site to look at conceptual photography, he would be very sad to see how the word is mis-used.
Ok, i've spent enough time on this journal and i'm not sure everyone will understand what i mean..
To make it short : i don't care about pretty conventionnal pictures. I want to be surprised, confused, i want to be able to make an effort to understand what i'm looking at. I want to see a personnal vision, i want to feel the photographer's sensibility, sensitivity, and talent of observation.
Yes yes.
cheers